Danny Adler The Roogalator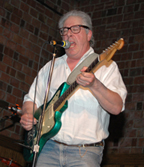 Danny Adler started playing music at an early age. Born in 1949, in Cincinnati, Ohio, home of King Records, he had early influences from greats on the scene that played the circuit. He gigged with locals H-Bomb Ferguson, Albert T. Washington, Amos Milburn, Bootsy and Phelps Collins while still in high school. Great music was everywhere on records and in the clubs. Danny picked up the influences of the legendary R&B, blues, jazz, and later, rock, that spanned the 40's to the 80's. His eclectic and unique sound packs a solid soul punch and infuses it with a blues feel that drives a hot steam engine of funk, then drifts down the river ending up in a story of colorful characters. He rocks and heats your blood with a dirty, funky groove. He cools you down with a jazzy sophistication. Danny Adler delivers.
Danny's History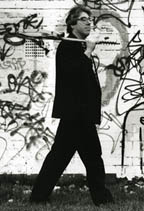 Danny's professional career began with Amos Milburn's band. He went on to perform with John Lee Hooker, T-Bone Walker, Memphis Slim, Chuck Berry, Slim Harpo, Solomon Burke, Charles Brown, Lowell Fulson, Arthur Crudup and Earl Hooker. London had become a melting pot of rock and roll and soul influences. Danny played in Smooth Loser with Jeff Pasternak on bass, Chris Gibbons on guitar, and Malcolm Mortimer, for a time, (GT Moore and the Reggae Guitars) on drums. British guitar met the driving soul and blues of the Midwest. When they broke up, Roogalator was born. Danny became the "Roogalator" guitar master and they played their first few gigs.
When the 70's scene blossomed into a rock mecca, he became part of Elephant's Memory (pre-John & Yoko) in New York. He worked the rock and R&B scene in California and New York. Never content to restrict himself to one form of music, he moved on to Europe and played solo as well as working with Ginger Johnson's African Drummers who blended a reggae sound with their rhythm. Danny toured on the Irish C&W circuit and expanded his musical curiosity to studying jazz guitar theory in Paris and fell in love with the sounds of Django Rheinhardt. He returned to London.
Roogalator started again with some session work, with drummer, Bobby Irwin, pianist Steve Beresford and keyboardist, Nick Plytas. The great John Peel, rock and roll/ new wave DJ featured them on his radio show. They played live at the London Marquee, the Roundhouse and other hot spots. Plytas and Beresford moved on but encouraged some other members to join, Dave Solomon, drums (played with Plytas doing Motown covers), and Paul Riley, bass (Chili Willi & Red Hot Peppers) joined. Great gigs and several record offers followed. Some band changes occurred and a Plytas song, "Love and the Single Girl" showed just how wide their range was. "Roogalator" and Cincinnati Fatback" solidified the sound that shook the pub rafters. Danny's hit songs were taking off. Always an original, he started writing more of his own material and formed the Danny Adler Band. In Europe, he was the featured artist on a TV series segment, "Rock Palast." A soundtrack followed featuring his original music for the BBC television series, "World About Us."
check out the new "Legacy Series" downloadable on itunes!